Vibra's Areas of Expertise
With over 40 years experience in manufacturing machinery and production finishing, Vibra Finish Limited is meeting the challenge of today's global marketplace with an uncompromising focus on quality and customer satisfaction.
New and Used Equipment
Vibra's machinery meets the vast majority of finishing needs simply, cost effectively.
Vibra Finish offers a wide range of used and/or refurbished surface finishing equipment.  Our stock is constantly changing so act quickly if you see an item of interest. You can browse through new and used equipment items, media and other products at the shopping cart section.
Rebuilding Services
In need of repair, repaint, refurishing, or a new liner? Just give us a call at: 905.625.9955
We manufacture and specialize in: vibratory finishing machines, tumblers, screeners/separators, conveyors and handling equipment. Vibra Finish can repair or refurbish any specialized finishing equipment to it's original state. We have resources, parts and lots of experience. We can also customize your existing machinery to your requirements.
Production Finishing
Our four (4) plants offer 7 days per week processing, utilizing over 150 pieces of finishing equipment.
We offer deburring, burnishing, descaling, vibrapeening, polishing, rust removal, cleaning, drying, corrosion protection, and peening services. Whether you require tumbling, vibratory finishing, centrifugal finishing, washing, blasting, shot blasting, packaging, sorting, and/or assembly, Vibra Finish's value added services can assist you in meeting your requirements.
Aerospace
Vibra Finish Limited offer services to the Aerospace Industry.
Vibra Finish Limited offer services to the Aerospace Industry that include Vibropeening, Vibrostrengthening, Shot Peening, Shot Blasting, Washing, Rust Inhibiting, Packaging, Labelling and Sorting. Please call Dwayne at: 905-366-8289 or Clive at 905-366-8285 for more information.
Packaging, Sorting & Assembly
All your parts are labelled, sorted, packed, packaged, and weighed ready for shipment.
Vibra Finish offers packaging, sorting and light assembly services, all in our facilities. We can provide the packaging or if you prefer we can use your existing packaging. Parts are labelled, sorted, packed, packaged, and weighed ready for shipment. We can also provide light assembly.
Value Added Potential
Give us a call: 905.625.9955 or e-mail us so that we can discuss your special needs.
In today's competitive market, we must find new ways to minimize cost and improve efficiency. Vibra Finish can assist you by offering services from start to finish. We not only process your parts, but we can also sort, package, identify and ship your parts. If you need light assembly done, we can accomplish this for you. Give us a call: 905.625.9955 or e-mail us so that we can discuss your needs.
Modern vibratory bowls have become specialized for the application.
Batch bowls are designed to produce shorter cycles and hence quicker turnaround.
Flow through bowls produce uniform action throughout the bowl with maximum dwell times in the bowl.
Flat bottom bowls have been designed for maximum vibratory efficiency (no hill or ramp to climb) and are very ergonomic (low level) to reduce operator fatigue and hence improve productivity.
Vibra Finish dryers are designed as stand alone units, or can be integrated with a vibratory deburring or burnishing machine as a complete system. The Vibra Finish corn cob dryer uses highly efficient electric heating elements to transfer heat directly to the cob. A temperature controller is used to provide heat only when necessary. Also available for small delicate parts – our vibratory hot air dryers are offered where the parts must be completely dry and free from all dust residue e.g. electronic components and coin blank finishing.
Two stage vibratory units consist of an inner vibratory bowl with an outer channel for corn cob drying, making one compact unit.
This design minimizes floor space requirements and is extremely cost effective.
Long low profile vibratory tubs are normally used for long narrow parts or have compartments to prevent part on part hitting during the process. The operator typically moves along the compartments loading and unloading. Load heights are critical for the ease of operator involvement. Deep profile tubs are used for larger parts. A part should be no larger than two thirds of the width of the tub in order to rotate freely. Tub machines are also used to self tumble part on part and a variety of doors are available for unloading.
An important consideration is the load height of the tub. Ideally one wants the lowest possible load height consistent with unloading into a bin.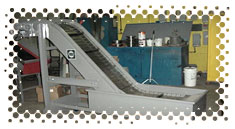 Material handling equipment is available to expand and automate the system.
Bin dumpers, conveyors, conveyors with hot air blow off, dip tank dragout systems for rust inhibiting, load hoppers on weigh cells can be offered, providing a single source for a complete processing line. Let our experience guide you in selecting the most appropriate media for your application.
Contact us to determine the best possible process for your finishing.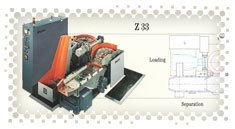 The range of centrifugal finishers can offer a treatment intensity up to 20 times higher than vibratory finishing processes. Recommended for small flat parts, that normally stick together. The parts are deburred without the work hardening effect of a vibratory process. Batch to batch security is ensured with 100% unloading of parts and media after each load.
The system can be totally automated, to include weighing systems, drying, magnetic separation, and can be integrated with a recycling centrifuge to meet today's environmental considerations.
Vibra's Compounds & Media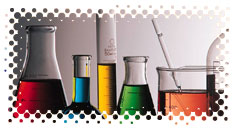 For over 40 years Vibra Finish has offered compounds that not only give our customers the best results, but they are also environmentally friendly. Vibra Finish ensures that our compounds are blended using the highest quality ingredients and the strictest quality controlled procedures.
Vibra Finish tests all of our custom blended products in our Production Finishing facilities and our Sample Parts Processing Laboratory prior to releasing for sale. When you choose a Vibra-Glo compound you know you will receive a quality product, at competitive prices, in a timely manner. Vibra Finish offers liquid Alkaline Cleaners, Acidic Burnishing Compounds, Washing Compounds, Rust Inhibitors and powdered cleaning and abrasive compounds to meet all your finishing needs. We are continually developing and testing new products to meet our changing environment.
The requirement of the finishing compound is to keep the surface of the media and the parts clean, and to ensure a consistent process; the key to consistent quality. The choice of compound will depend on the material to be treated, the desired surface finish and the individual application and process requirements.
Liquid compounds are most widely used, as they can be metered at the correct dilution rate using an automatic compound dispensing system. Powder compounds are recommended for special applications.
Call Cherryl for more information at: 905-625-9955  ext. 252
In any mass finishing operation, choosing the right combination of media, compound and equipment is the first step to achieving quality results economically. Ceramic, plastic and steel media is available in a wide variety of shapes, sizes, colors and compositions. The composition of the abrasive media determines its grinding performance and the surface finish effect. The shape of the media must fit the shape of the component to ensure all contours can be reached and lodging is avoided. The shape of the media also has an effect on the performance. Larger heavier media cuts more aggressively and leaves a more textured surface. Ceramic Media and Plastic Media grades range from media with no abrasive, recommended for very fine burnishing and polishing, to extremely heavy, high-density media that can replace steel media in certain applications. There are grades which contain silicon carbide abrasive. These are recommend for use on parts that can have no aluminum oxide impregnation (usually on parts that are to be welded, brazed or soldered). The availability of large sizes of plastic media lends itself for use with complex aluminum and zinc die cast parts.
Steel media imparts compressive stress, causing the surface of the part to become work-hardened. Parts processed with steel media have longer cycle lives and greater resistance to wear as a result of this compressive stress action. When parts are finished with steel media, a compacting action helps eliminate porosity and can increase the corrosion resistance after plating and painting.
The difference in size between the component and the media must be sufficient to allow for separation. Usually media is smaller than the parts to allow the media to pass through a screen if the process involves automatic separation.
Let our experience guide you in selecting the most appropriate media for your application.
43 years of experience, long exposure to the diversified market,
24/7 operations from 4 plants, no deadline ever missed,
Over 150 pieces of vibratory equipment waiting to process your parts,
Extreme volume processing power, efficiency and accuracy with final delivery,
Vibra is recommended by thousands of happy clients.
For many years, Vibra Finish has been our go-to subcontractor when we needed parts blasted in a timely manner. Vibra Finish provides great customer service from the pick-up of parts to the delivery. They provide prompt quality service while always focusing on the customer's needs. Vibra Finish is a quality subcontractor that is customer focused and driven. The staff at Vibra Finish is very professional and I would highly recommend them to anyone looking for blasting services. Thank you!
Vibra Finish has done everything possible to accommodate our needs. And they always do it with the utmost professionalism. Dealing with Vibra keeps us coming back. The working relationship they have with their customers is unimpeachable.
Our company takes pride in finding suppliers that partner with us so that we can exceed the expectations of our customer and Vibra Finish has exceeded our expectations. Thank you for making it so easy.