Vibra's Areas of Expertise
With over 40 years experience in manufacturing machinery and production finishing, Vibra Finish Limited is meeting the challenge of today's global marketplace with an uncompromising focus on quality and customer satisfaction.
New and Used Equipment
Vibra's machinery meets the vast majority of finishing needs simply, cost effectively.
Vibra Finish offers a wide range of used and/or refurbished surface finishing equipment.  Our stock is constantly changing so act quickly if you see an item of interest. You can browse through new and used equipment items, media and other products at the shopping cart section.
Rebuilding Services
In need of repair, repaint, refurishing, or a new liner? Just give us a call at: 905.625.9955
We manufacture and specialize in: vibratory finishing machines, tumblers, screeners/separators, conveyors and handling equipment. Vibra Finish can repair or refurbish any specialized finishing equipment to it's original state. We have resources, parts and lots of experience. We can also customize your existing machinery to your requirements.
Production Finishing
Our four (4) plants offer 7 days per week processing, utilizing over 150 pieces of finishing equipment.
We offer deburring, burnishing, descaling, vibrapeening, polishing, rust removal, cleaning, drying, corrosion protection, and peening services. Whether you require tumbling, vibratory finishing, centrifugal finishing, washing, blasting, shot blasting, packaging, sorting, and/or assembly, Vibra Finish's value added services can assist you in meeting your requirements.
Aerospace
Vibra Finish Limited offer services to the Aerospace Industry.
Vibra Finish Limited offer services to the Aerospace Industry that include Vibropeening, Vibrostrengthening, Shot Peening, Shot Blasting, Washing, Rust Inhibiting, Packaging, Labelling and Sorting. Please call Dwayne at: 905-366-8289 or Clive at 905-366-8285 for more information.
Packaging, Sorting & Assembly
All your parts are labelled, sorted, packed, packaged, and weighed ready for shipment.
Vibra Finish offers packaging, sorting and light assembly services, all in our facilities. We can provide the packaging or if you prefer we can use your existing packaging. Parts are labelled, sorted, packed, packaged, and weighed ready for shipment. We can also provide light assembly.
Value Added Potential
Give us a call: 905.625.9955 or e-mail us so that we can discuss your special needs.
In today's competitive market, we must find new ways to minimize cost and improve efficiency. Vibra Finish can assist you by offering services from start to finish. We not only process your parts, but we can also sort, package, identify and ship your parts. If you need light assembly done, we can accomplish this for you. Give us a call: 905.625.9955 or e-mail us so that we can discuss your needs.
Modern vibratory bowls have become specialized for the application.
Batch bowls are designed to produce shorter cycles and hence quicker turnaround.
Flow through bowls produce uniform action throughout the bowl with maximum dwell times in the bowl.
Flat bottom bowls have been designed for maximum vibratory efficiency (no hill or ramp to climb) and are very ergonomic (low level) to reduce operator fatigue and hence improve productivity.
Vibra Finish dryers are designed as stand alone units, or can be integrated with a vibratory deburring or burnishing machine as a complete system. The Vibra Finish corn cob dryer uses highly efficient electric heating elements to transfer heat directly to the cob. A temperature controller is used to provide heat only when necessary. Also available for small delicate parts – our vibratory hot air dryers are offered where the parts must be completely dry and free from all dust residue e.g. electronic components and coin blank finishing.
Two stage vibratory units consist of an inner vibratory bowl with an outer channel for corn cob drying, making one compact unit.
This design minimizes floor space requirements and is extremely cost effective.
Long low profile vibratory tubs are normally used for long narrow parts or have compartments to prevent part on part hitting during the process. The operator typically moves along the compartments loading and unloading. Load heights are critical for the ease of operator involvement. Deep profile tubs are used for larger parts. A part should be no larger than two thirds of the width of the tub in order to rotate freely. Tub machines are also used to self tumble part on part and a variety of doors are available for unloading.
An important consideration is the load height of the tub. Ideally one wants the lowest possible load height consistent with unloading into a bin.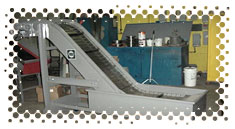 Material handling equipment is available to expand and automate the system.
Bin dumpers, conveyors, conveyors with hot air blow off, dip tank dragout systems for rust inhibiting, load hoppers on weigh cells can be offered, providing a single source for a complete processing line. Let our experience guide you in selecting the most appropriate media for your application.
Contact us to determine the best possible process for your finishing.